A Kim Kardashian smartphone game sounds like a joke waiting for a punchline. But Ms. Kardashian and the maker of Kim Kardashian: Hollywood are laughing all the way to the bank.
On Wednesday, during its second-quarter earnings call with investors, Glu Mobile, the company that developed the game, said the game generated $1.6 million in revenue during its first five days on the market, in late June. And the hot sales have continued. The game is now the fifth highest-grossing game on Apple's App Store. The company said it expected tens of millions of people around the world to download the game on their iPhones or Android phones, even though the game is available only in English.
Kim Kardashian: Hollywood has sharp graphics, and the premise is simple. It drops players into the celebrity world and challenges them to improve their social standing, build careers and accumulate wealth and fans. Players navigate through tasks like booking jobs, making friends and going on dates, and the occasional appearance from the cartoon version of Ms. Kardashian herself. For those who keep up with the Kardashian family and brand, it is riddled with insider jokes and winks about the family and its history.
The game is free to download and play, but it sells in-app purchases for things like additional energy and "K-stars," which can be used to buy special hairstyles, accessories and clothing. Although players don't have to spend money to advance in the game play, they are clearly enticed to indulge on the fancier items available for sale — imitating Ms. Kardashian's own high-spending ways. One analyst estimated that the game could bring in as much as $200 million annually.
Claudia Oropeza, a spokeswoman for Glu Mobile, which makes games like Deer Hunter and Dino Hunter, said that the company wanted to develop a casual, role-playing game and sought out Ms Kardashian as "the best brand fit in the world."
The company reached out to Ms. Kardashian in early 2013 about a potential partnership, the company's first with a public figure, and development took around 18 months. The company declined to disclose details about the deal with Ms. Kardashian. But it has called the game its most successful yet and said that Ms. Kardashian received royalties.
Glu Mobile said that the game had had a "tremendous performance." Glu's revenue in the last quarter rose 50 percent, to $35 million, even though the game was around for only a few days in the quarter. Shares in Glu have shot up nearly 40 percent in the last month, and 145 percent in the last year, although they fell about 9 percent in after-hours trading on Wednesday.
"We now expect to generate more revenue in the second half of 2014 than we did for the entirety of 2013," Niccolo de Masi, Glu's chief executive, said in a conference call with investors.
The company also said the early frenzy around the game would probably settle out, but that it planned to extend the game's longevity by rolling out localized versions of the game, to help its global appeal, as well as continue to roll out updates that correlate with Ms. Kardashian's real-world life and events.
The game's early popularity is reminiscent of other popular mobile games, such as Angry Birds, Candy Crush and Dots. The game and references to it have spread across Twitter, Tumblr and Instagram and have led to extended discussions about the game'S addictiveness and its sly ode to celebrity culture and Ms. Kardashian's business savvy.
Ms. Kardashian has lent more than her likeness and voice to the game. She has been promoting it on her Instagram and Twitter accounts, as well as posting sneak previews for coming updates to the game.
"It is a narrative, and it can be extended infinitely," Mr. de Masi said about the longevity of the game.
The game is not Ms. Kardashian's first dabbling in technology entrepreneurship. In 2009, she helped found a subscription-based shoe called ShoeDazzle, which raised upwards of $60 million in venture capital before being acquired by another online fashion service called JustFab.
The popularity and early success of the game is a testament to many things, including the importance of the network effect when it comes to building awareness around the game. It also illustrates the newfound potential for mobile games to be as lucrative and successful as more traditional partnerships and endorsement deals for a new generation of multifaceted, digitally savvy celebrities like Ms. Kardashian who are fluent across multiple platforms, including television and social media.
"There will be a lot of opportunities to work with Kim to expand her brand and awareness," Mr. de Masi said. "Ultimately, she's just getting started."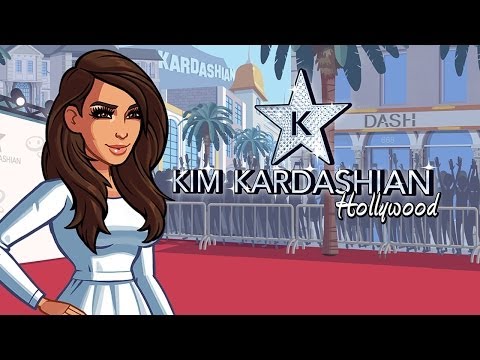 A promotional trailer for the Kim Kardashian app.