Back in October of 2016, I wrote an article here on Seeking Alpha cautioning BlackBerry (BB) investors that Apple (AAPL) was about to take the automotive OS market away from BlackBerry.
As you may or may not know, BlackBerry's automotive operating system, QNX, is found in a staggering 60 million vehicles powering everything from electronic control units to in-dash infotainment. More recently, BlackBerry has been expanding its footprint by trying to also supply the operating system for autonomous vehicles.
As I explained in that early article, BlackBerry owned the smartphone market from say 2006 to 2009. But in 2010, something interesting happened; Apple, with its iPhone, came in and ate BlackBerry's lunch! BlackBerry smartphone sales never recovered, and BlackBerry has spent the last eight or so years trying to find a new niche.
In that article, I cautioned BlackBerry investors to pay close attention to Apple's interest in the autonomous vehicle, code-named Project Titan. And with so much of BlackBerry's talent going to Apple, it should be a real concern.
The bullish BlackBerry investors waved away my warnings by reminding me of how BlackBerry was miles ahead and had all the certifications and domain expertise Apple lacked.
Avid commenter and long-time BlackBerry bull, Yasch22, provided a long and detailed laundry list of why Apple hasn't a chance to displace BlackBerry in the automotive operating system market.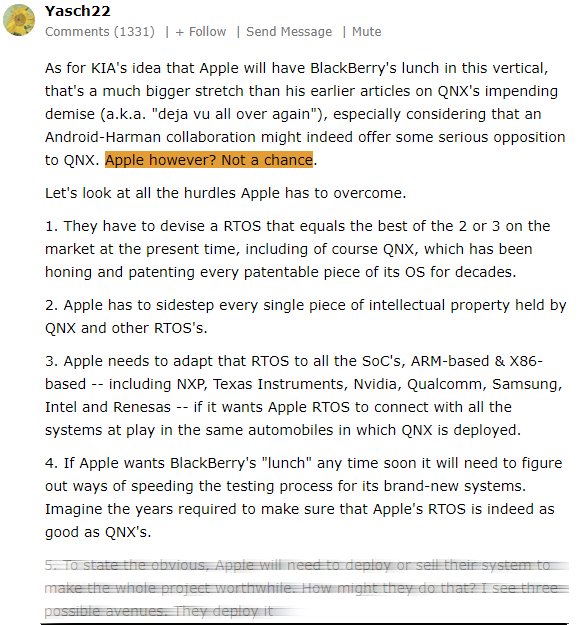 (

edited for brevity)

Source

: Seeking Alpha
And yet, Apple's autonomous test vehicles are on the road today...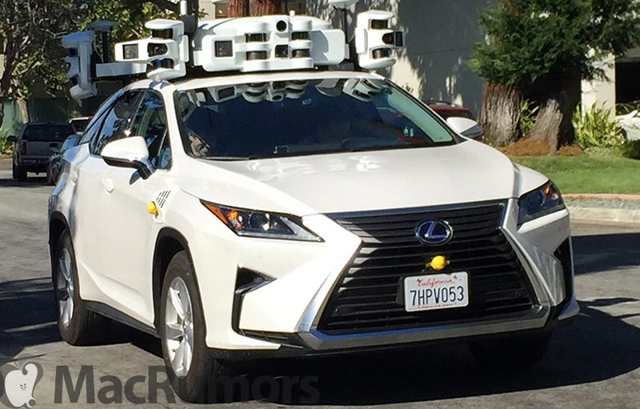 >
Source: MacRumors
I work in Sunnyvale, California, right in the heart of Silicon Valley and not a stone's throw from the new Apple campus at 222 N. Wolf Road.
In the last month, I have seen at least three of these autonomous powered Lexus vehicles tooling around the streets of Sunnyvale.
Apple has been pretty tight-lipped about the internals of this system, but we do know that Apple hired Dan Dodge to work on Apple's autonomous vehicle. (Dan Dodge was one of the creators of BlackBerry's automotive operating system.) This strongly suggests Apple has created its own automotive operating system as I suggested back in late 2016.
And Apple's not alone here. Other giants like Tesla (TSLA) and Alphabet's (GOOG) (GOOGL) Waymo are also developing in this area, and these vehicles run on Linux.
Why is this important for BlackBerry investors?
Since the demise of the BlackBerry smartphone, BlackBerry has been going all-in on autonomous vehicles. John Chen tells us he wants multiple instances of QNX running in the vehicle and a separate license generating $3-5 for each.
I think this is a fine business model, if it weren't for the stiff competition.
But is BlackBerry offering an autonomous solution?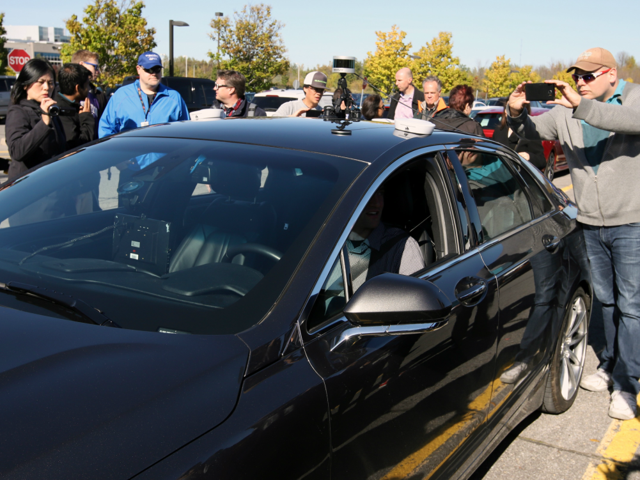 >
In October of 2017, The financial Post reports that,
A QNX-equipped self-driving car hit the road in suburban Ottawa in what was billed as the first on-street test of an autonomous vehicle in Canada. The grey Lincoln MKZ pulled away with Ottawa Mayor Jim Watson, councillor Marianne Wilkinson and John Wall, general manager of BlackBerry QNX, aboard.

To aid in the demonstration, the test loop around the suburban technology park has been upgraded with traffic lights equipped with transmitters that communicate with the car as well as repainted street lines and new LED street lights.
However, when the rubber meets the road...
Apple and Google/Waymo are better funded, further along, and can offer a solution for autonomous and not simply an operating system.
John Wall, general manager of BlackBerry QNX, explains it this way:
BlackBerry QNX is developing the software foundation for autonomous vehicles, while Wall said

others are working on what he called "the brain."

"In a lot of cases, the OEMs want to own that, so the Fords of this world, the Mercedes of this world,

that's their secret sauce, they're going to build the brain," he said.

"

We're going to provide all the infrastructure, the security, the safety, the redundancy, the communication, how the signals come in." (emphasis added)
Source: The Financial Post
The brains of autonomous driving are where the lion's share of revenue will come from. Operating systems are decades old technology and QNX for instance dates back to 1980. But the "brains" of autonomous: LiDAR, machine learning, AI, and driving policy are all state-of-the-art and infinitely more complex than a microkernel operating system.
Investor Takeaway:
While BlackBerry is providing an operating system for autonomous, Apple, Waymo, et al. are working on the brains of autonomous, and can therefore demand a premium for what they bring to the table. Additionally, we're talking about two of the biggest companies of all time that have no trouble attracting the best scientific minds the world has to offer.
If your investment thesis is based upon BlackBerry's role in the autonomous revolution, please consider the information provided in this note as at least Apple, Waymo, and Tesla may be a better way to play autonomous.
Disclosure: I am/we are short BB.
I wrote this article myself, and it expresses my own opinions. I am not receiving compensation for it (other than from Seeking Alpha). I have no business relationship with any company whose stock is mentioned in this article.
Additional disclosure: I am long March puts and calls on BlackBerry, with a straddle. It's an even split which makes my position effectively neutral. All proceeds from this article will be donated to charity.
Source : https://seekingalpha.com/article/4145749-apple-preparing-eat-blackberrys-lunch-part-2