The draw for the new UEFA Nations League took place on Wednesday. Here's all you need to know about the competition and how it will work...
What is the UEFA Nations League?
The UEFA Nations League is a new international tournament. England will go up against other European nations in a league format for the chance to compete in the Final Four summer showpiece in 2019, where the winner will be crowned the Nations League champion.
In a bid to improve the quality of international football and reduce the number of meaningless friendlies, UEFA - which has been planning the competition since 2011 - has devised a new format to add excitement and competition to country clashes.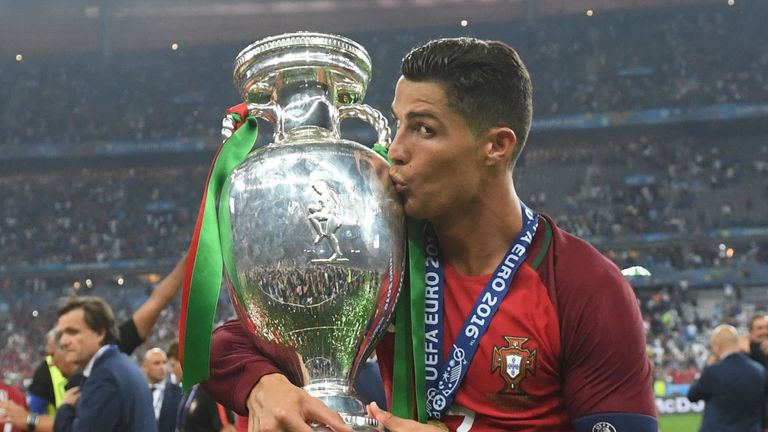 How will it work?
There will be 55 teams involved, split into four leagues (A, B, C and D) based on their UEFA ranking at the end of the 2018 World Cup Qualifiers.
Within those four leagues, teams will be split again into groups, which will be made up of either three or four teams.
Within each league, four teams will be promoted at the end of the cycle, while four teams will be relegated. They will then play at their new level in the next competition, which starts in 2020.
The winners of the four groups in League A will qualify for the Final Four competition.
How have the groups been divided?
>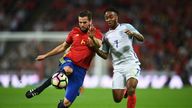 UEFA Nations League draw
England draw Spain and Croatia in UEFA Nations League, while Republic of Ireland face Wales
Full League A draw
Group 1: Germany, France, Netherlands
Group 2: Belgium, Switzerland, Iceland
Group 3: Portugal, Italy, Poland
Group 4: Spain, England, Croatia
Full League B draw
Group 1: Slovakia, Ukraine, Czech Republic
Group 2: Russia, Sweden, Turkey
Group 3: Austria, Bosnia & Herzegovina, Northern Ireland
Group 4: Wales, Republic of Ireland, Denmark
Full League C draw
Group 1: Scotland, Albania, Israel
Group 2: Hungary, Greece, Finland, Estonia
Group 3: Slovenia, Norway, Bulgaria, Cyprus
Group 4: Romania, Serbia, Montenegro, Lithuania
Full League D draw
Group 1: Georgia, Latvia, Kazakhstan, Andorra
Group 2: Belarus, Luxembourg, Moldova, San Marino
Group 3: Azerbaijan, Faroe Islands, Malta, Kosovo
Group 4: FYR Macedonia, Armenia, Liechtenstein, Gibraltar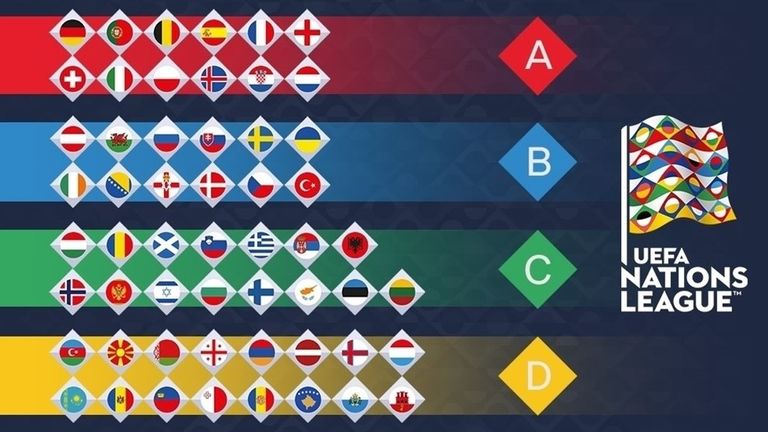 When will the Nations League take place?
Matchday 1: September 6-9, 2018
Matchday 2: September 9-11, 2018
Matchday 3: October 11-13, 2018
Matchday 4: October 14-16, 2018
Matchday 5: November 15-17, 2018
Matchday 6: November 18-20, 2018
Finals: June 5-9, 2019