By Greg Robinson




img src="http://www.bigpicturebigsound.com/images/email_rd64.png" alt="Email this article" title="Email this article"">

Fully Immersed, Volume 18
The 90th annual Academy Awards provided a few surprises this year, but some of the awards did feel inevitable. For example, it was great to see Christopher Nolan's masterful Dunkirk recognized not only for Film Editing but also for its Sound Editing and Sound Mixing.  The film sounded absolutely terrific in the theater - so much so that the home release missing a Dolby Atmos soundtrack continues to feel like a bit of a missed opportunity.  Hats off as well to Pixar's Coco, which I cover in more detail down below. Thankfully, many of the films celebrated on Oscar night are already available or coming soon to Blu-ray and 4K. As for titles featuring an immersive audio soundtrack option, here are a few titles coming soon:
Justice League - Dolby Atmos, Warner (Blu-ray, 4K UHD)

Ferdinand 4K - Dolby Atmos, Fox (4K UHD only)

Jumanji: Welcome to the Jungle 4K - Dolby Atmos, Sony (4K UHD only)

Pitch Perfect 1,2,3 - DTS:X, Universal (Blu-ray, 4K UHD)

Star Wars: The Last Jedi 4K - Dolby Atmos, Disney (4K UHD only)
I plan to cover at least a few of the above titles soon. Until then, here's what I've listened to most recently...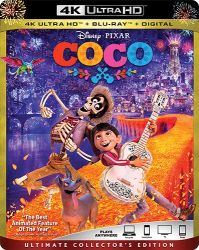 Coco
Disney | Buy Now | Dolby Atmos available on 4K UHD only
Pixar's latest visual feast follows young Miguel, a Mexican boy trying to escape his fate of joining his family's shoemaking business in order to follow his one true passion: music. The only problem is that music has been completely outlawed in Miguel's household due to some contentious and mysterious family history revolving around a certain mariachi. To get the answers and freedom he seeks, Miguel crosses over to the world of the dead during Dia de Muertos, the Day of the Dead. As one might imagine, wacky hijinks and powerful, moving emotions ensue. Winner of the Oscar for Best Animated Feature Film, Coco is worth seeing for a number of reasons. One of them is the solid Dolby Atmos soundtrack Disney has bestowed (only) on the 4K Ultra HD release. Its use of the height chanels is not as overt as with some other titles but there are several nice effects throughout.  During the village's Dia de Muertos celebration, fireworks can be heard soaring and popping overhead which adds a convincing extra layer atop the base soundtrack you'll hear on the standard Blu-ray.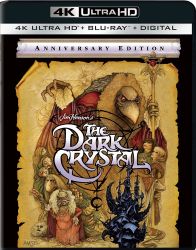 The Dark Crystal
Sony | Buy Now | Dolby Atmos available on 4K UHD only
From the mind of Jim Henson, The Dark Crystal remains a remarkable achievement in both puppetry and fantasy filmmaking some 35 years later. Directed by Henson and Frank Oz, the film chronicles the quest of a young Gelfling named Jen who is searching for a missing shard of The Crystal and which must be restored in order to prevent the rule of the evil Skeksis. It's been a long time since I last watched The Dark Crystal, but it's safe to say that Sony's new Anniversary Edition 4K Ultra HD release is a revelation, giving the film what is likely to be the finest presentation it will ever see on home video. In addition to the impressive 4K remaster, Sony has also produced a new Dolby Atmos soundtrack which does a beautiful job of expanding the sound field, layering in some nice atmospheric effects along the way. Early in the film, we witness the Skeksis in their castle lair performing the Ceremony of the Sun. Ominous thunder ripples across the ceiling channels to great effect, transporting the listener to this dark and foreboding landscape.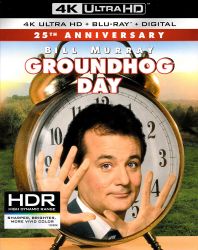 Groundhog Day
Sony | Buy Now | Dolby Atmos available on 4K UHD only
A lot of folks will point to Ghostbusters or Caddyshack as Bill Murray's finest hour, but the more I see it, the more I'm inclined to say that honor may belong to Groundhog Day. Ironically, the film just gets better every time you see it and it's hard not to pick up new charming details with each repeat viewing. For the uninitiated, Bill Murray plays a cranky meteorologist sent to Punxsutawney, PA to cover the Groundhog Day festivities only to find that a winter storm is preventing him from leaving town. That, and the fact that every day he wakes up, it's the same day and he's forced to re-live Groundhog Day over and over. "What if there is no tomorrow? There wasn't one today." Brilliant. In a surprise move, Sony recently gave this gem of a comedy an Ultra HD release sporting new 4K video and new Dolby Atmos sound. Like most comedies, Groundhog Day is dialogue-driven, but the Atmos track sounds great and quite natural. During the opening credits, the song "Weatherman" sounds remarkably more robust than when I've heard it before, even making use of the overhead channels, while outdoor scenes like those at Gobbler's Knob have a pleasant spaciousness to them. This is hardly an Atmos powerhouse, but a pleasant and nuanced surprise nonetheless.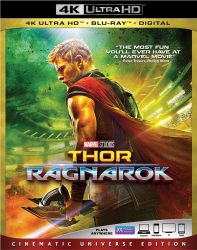 Thor: Ragnarok
Disney | Buy Now | Dolby Atmos available on 4K UHD only
As soon as we all figure out how to pronounce it, Taika Waititi is sure to become a household name. (For the record, it's "Tie-ka Why-tee-tee." I think.) Waititi is the man who after directing a few critically-acclaimed but relatively little known comedies - such as What We Do in the Shadows and Hunt for the Wilderpeople - was handed the reins to Marvel's mega budget Thor franchise. And he knocked it out of the park. Bursting with color, quirky humor, and a bevy of charming supporting characters, Ragnarok is quite simply the Thor film fans have been waiting for. In keeping with recent releases such as Guardians of the Galaxy Vol. 2 and Coco, Disney has opted to only offer a Dolby Atmos soundtrack on the 4K Ultra HD disc. And that's unfortunate, because the Atmos track on Thor: Ragnarok provides a definite improvement over the DTS-HD track on the standard Blu-ray. Music and dialogue are expertly presented throughout and bass is sufficiently deep when called for. The overhead channels aren't used as aggressively as I would have preferred in a film like this, but they do have their moments. When the Grandmaster introduces Thor and his prized champion in the arena, the overhead channels layer in a convincing echo, creating a much larger sound stage and a grin-inducing sense of immersion.
More Information:
Reviewed Using:
Source : http://www.bigpicturebigsound.com/Fully-Immersed-volume-18.shtml
1652